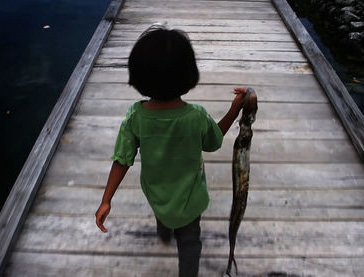 For some people, octopuses are already brothers. Among the sea nomads of Indonesia, every newborn has an octopus as a twin brother. rituals are carried out to appease the brother in the water and prevent misfortunes. When dishonor occurs, Jakarta is portrayed as the apocalyptic revenge of the brother octopus.
Florian Kunert traces the relationship of a group of nomads with octopuses, paradoxical at times as it seems to be the case everywhere in the world, through a hybrid film that is documentary in its aim, yet deeply personal in its approach — an empirical meditation on relating. the subjective camera work and its close and intimate observations draw its audience into the relationships of its protagonists, both animal and human. Yet precisely by the surrender of an ideal of impartial objectivity, he sees eye to eye with his hosts above and under water, allowing us to be touched by their perspective. By surrendering the broken ideal of impartiality, Kunert writes us into his film.
The further we thus delve into the world as the nomads know it, the further our own knowledge allows itself to be recalibrated. Who, then, do we meet, in the nomad's brother octopus? What octopuses do we recognize, when we perceive and understand them through the knowledge of the Sama-Bajau? What do we see, when we live with octopuses in our family?